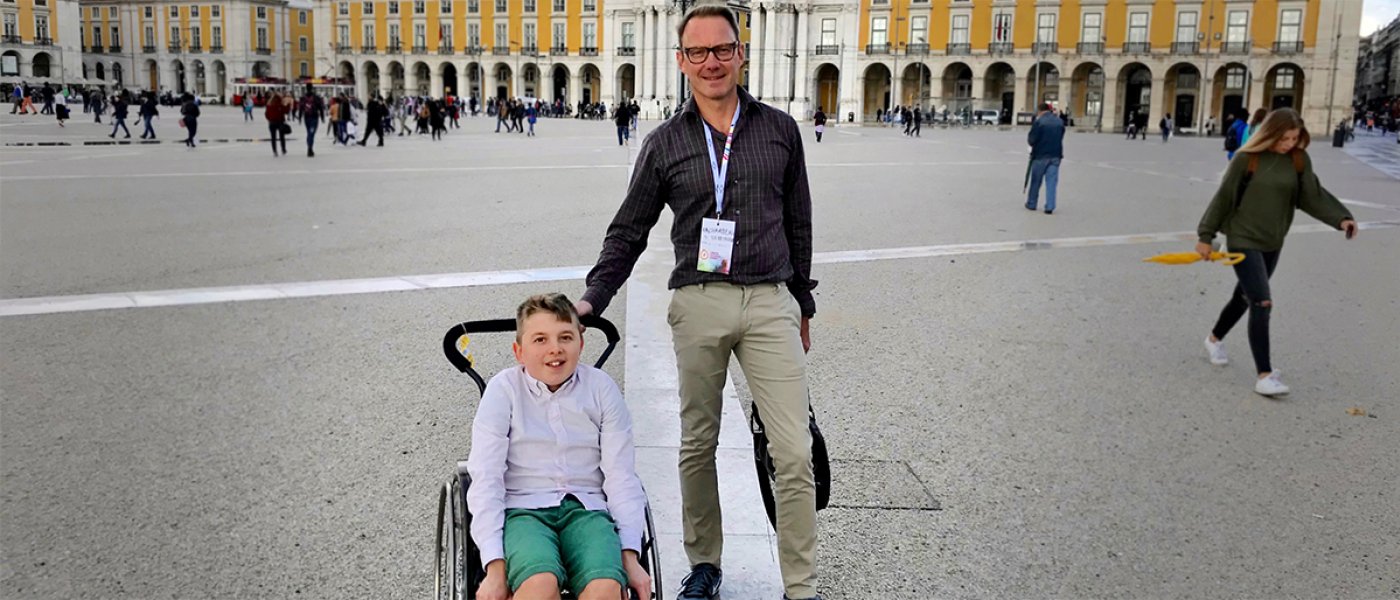 Handiscover: Democratising accessibility
From starting out as an online travelling agency for people with disabilities to a data-driven B2B company collecting information on accessibility, offering specialised content and educating companies on how to better meet their disabled customers' needs, Handiscover's personal mission is to democratise accessibility.
French-born Sebastien Archambeaud decided to move to his mother's native country of Sweden around 20 years ago. After working in the tech industry for many years, Sebastien decided to take the leap and become a full-time entrepreneur after his personal life had taken an unexpected turn.
Personal motivation
"There were highly personal reasons behind my decision to commit to Handiscover. My son has a muscle-wasting disease which means he is living with a disability," he says.
It had been a huge change for the family when Sebastien's son was diagnosed at the age of four. Not just everyday life at home was affected, but their frequent travelling abroad was suddenly brought to a halt. The family had a trip planned to Sebastien's home town Paris just as his son got his first wheelchair. Finding reliable information on hotel accessibility proved to be difficult, if not impossible.
"Even without a disability, Paris is a complicated city to get around. It made me ask myself how we'd pull it off with a four years old in a wheelchair. I didn't really know anything about accessibility as it wasn't something I'd had to take into account before," Sebastien explains.
"However, during our trip, I noticed two things. Firstly, as I had expected, the city of Paris was difficult to navigate with a disability. But secondly, and most importantly, I noticed how kind and helpful people were towards us. It was truly inspiring."
"Forget the soft mittens and 'do good' attitude, these are real customers and they need to be treated accordingly." - Sebastien Archambeaud.
Handiscover
This insight set the foundation for Handiscover. During their trip to Paris, Sebastien had realised there was a big gap in the market for a travel website specialising in accessibility. In 2015, he launched the first version of Handiscover offering reliable data on hotel accessibility and travel inspiration.
By categorising accommodation according to capacity as opposed to disability, Sebastien means that Handiscover can offer more reliable information. For example, visually impaired people's disabilities vary dramatically – and so do their needs. Whereas one person might have some difficulty seeing, another could be entirely blind.
"We wanted to show people in the same position as us that even though it might be difficult at times, it is possible to travel. We want to democratise accessibility – in terms of budget as well as data. It's not just hardship to be disabled, there are actually many things that help facilitate life with a disability, too."
Paying customers
This was just the start for Handiscover. In the past six years, the company has grown to 13 employees and the website has gone from being a holiday site to a provider of valuable data on accessibility.
A recent addition to Handiscover is its accessibility management programme, which helps companies better cater for their customers with a disability. Participants include museums, sport stadiums, shops and geographic destinations such as cities. Upon programme completion, the participating company is awarded a certificate in accessibility excellence which can be displayed on their website or shop window.
"We have seen that we can make a real impact on society when it comes to accessibility and improve conditions for people with a disability by helping companies to adapt," he says.
As people with disability account for 20% of the world's population, Sebastien stresses that there is commercial interest at play.
"This is not some niche market we are talking about. It's easy to forget that people with a disability is a massive segment of paying customers that should be viewed and treated just like anybody else. No business can afford to disregard this huge market.
"Forget the soft mittens and 'do good' attitude, these are real customers and they need to be treated accordingly," says Sebastien.