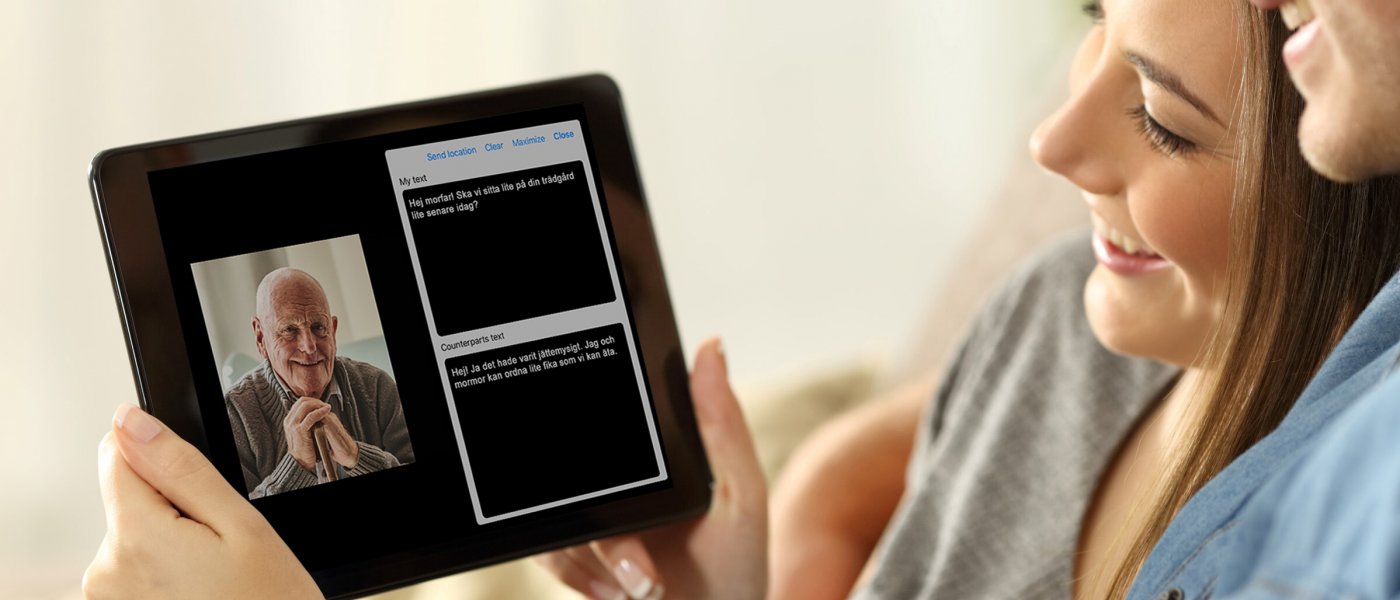 How a long-standing Malmö healthtech company is reaching beyond Scandinavia
For more than two decades, Malmö-based T-Meeting has been developing technology for people with communication difficulties. Throughout Scandinavia, the company's products and services help those who cannot hear, speak, or see to communicate and connect with the world. But T-Meeting itself was unable to connect with international markets until it began working with Invest in Skåne.
"We have done complete solutions for every type of difficulty that has something to do with communication," says Faruk Tairi, T-Meeting's CEO and co-founder of its parent company Europea.
Initially, those solutions were for total communications systems, like pre-broadband video calling for the deaf or video call systems that connected to braille terminals for the deaf-blind. T-Meeting eventually also began creating end-user products like smartphone and tablet apps, as well as wearable devices. And with an ever-increasing aging populace losing hearing and sight, there was a growing customer base.
"If we didn't get their assistance... we probably would never have taken that step." - Faruk Tairi
At the heart of T-Meeting is an appreciation for the value of communication.
According to Faruk, the initial business in the early 1990s was a privately-owned translation company. "We knew all those languages from the former Yugoslavia," he explained. So when war broke out in the region, there was a massive need for their services. "We were hired around the clock during those years." The resulting capital from that first venture was used to develop what would become T-Meeting.
"We always work with two sides that don't understand each other," says Faruk, who explains how they wanted to come up with a technology solution. Video calling and communication seemed like a logical avenue to explore as a project in 1997. They discovered that most people found it to be a nice feature to use, another group needed it. "But for the deaf, it was a must to have," he explains.
T-meeting was then formed in 2000 to develop their first video communication devices. "After that, we just built our development team," says Faruk. "And now 20 years later, we are very successful and very strong in Scandinavia. And we're looking forward... looking to find other export markets."
The formidable prospect of new markets
But like those with communication difficulties, a company looking to reach other markets for export could use some help and assistance.
Faruk cites T-Meeting's focus on developing new solutions and maintaining services for their user-base as a major reason the company hasn't really positioned itself beyond Sweden and Norway. "It's difficult to lift up the head and see how we should get outside these two markets that we are very strong in," he says.
But reaching new markets can be daunting, especially when it comes to products and services that can require different levels of certification, clearance, and control before they can be sold.
"It becomes increasingly difficult to realize how the actors work," says Veton Tairi, Europea's Business Developer. "I mean just getting in touch with somebody, for example, at Amazon, that's basically impossible because you only speak with robots over there. We paused that because it was such a big headache."
T-Meeting's export efforts got more hopeful when they started getting help from Invest in Skåne, which the company learned about through industry connections.
"It hasn't been a long relationship. It's been a year and a half," admits Veton. But in that time they've helped T-Meeting make connections in the markets and regions that the company has been interested in.
"They've been quite instrumental in getting us in touch with specific companies and individuals, that are focused within our user groups," he explains.
Invest in Skåne also gave insight and advice to T-Meeting for approaching specific markets and how to position themselves to potential partners.
"The input from them is very useful," says Faruk. "Now we are in talks with several companies and I think that it could be, you know, bulk sales around the globe."
According to Faruk, the help from Invest in Skåne has been essential for T-Meeting to begin reaching a new level with exports. "If we didn't get their assistance," he says, "we probably would never have taken that step."