Greater Copenhagen Green Deal Webinar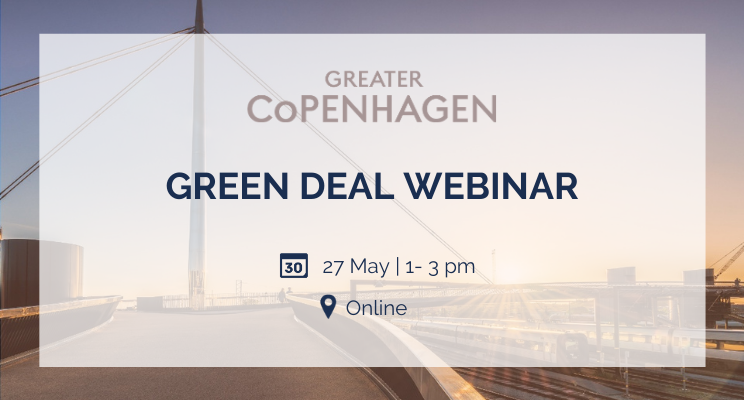 Join the Greater Copenhagen Green Deal webinar on May 27, 2021 to get the opportunity to participate in the green transition and find new partnerships.
In the Greater Copenhagen Green Deal project, we wish to create partnerships between the public and private sector as well as research institutions. With the help of these partnerships, our aim is to identify 8 definite challenges or innovation opportunities within the green transition.

The webinar presents four innovation forums that you can become an active part of:
Carbon neutral
Energy efficiency
Circular economy
Climate resilience
If you want to know more about the Greater Copenhagen Green Deal project, how to apply for funding from the European Union, or wish to contribute to the Green Transition, this webinar is for you.
When: 27th of May 2021 | 13:00 - 15:00 CET
Where: Online on 'Go to Webinar'
The event is free of charge.

About the project
Behind the project is a strong Danish- Swedish partnership and from the Danish side it consists of: Copenhagen Capacity, as the project manager; two of the new Danish clusters, Energy Cluster Denmark and CLEAN, as well as Greater Copenhagen, and Greater Copenhagen EU Office. The Swedish side consists of: Invest in Skåne; Sustainable Business Hub Malmö; and the Skåne region and the Halland region.